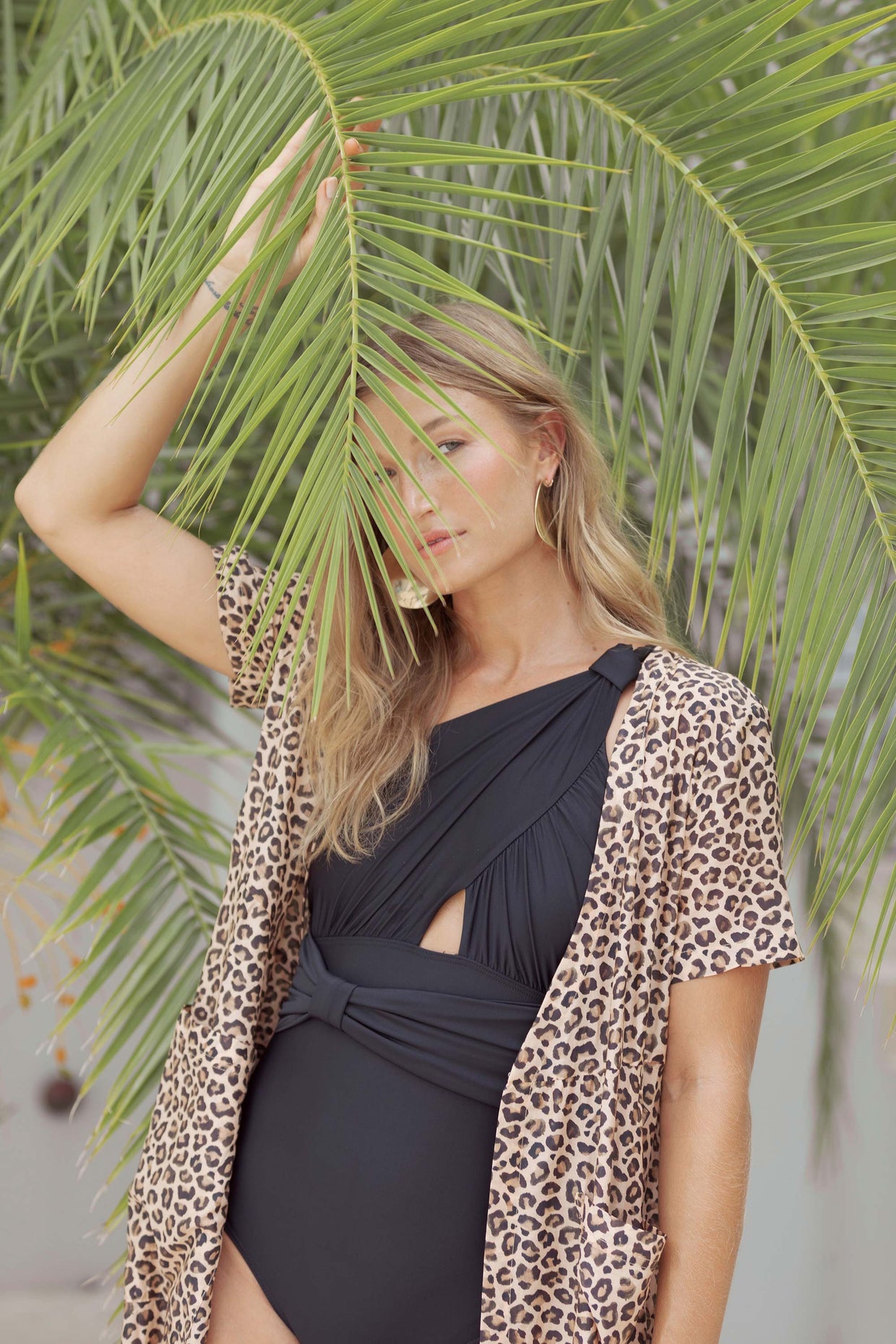 Far too many of us operate under the misguided belief that our swimsuits are only good for one thing – being in the water or lounging by the water. After that part of the day is done, most of us are looking to change as quickly as possible. However, a quick check in with many of our style gurus will show 'dress swimwear' is a big fashion thumbs up. Not only is the dress swimsuit style A-OK when combining your swimsuit with other clothes after leaving the beach, sometimes incorporating your swimsuit into your outfit when you have no intention of hitting the beach can have spectacularly stylish results! Here are 7 of our favorite ways to pull the 'clothing over swimwear' look off.
1. Bikini Top and Shorts
This is a classic, but it's one that has stuck around for a reason. Always an effortless look, it says "I know I look great in this bikini – but I'm going to leave a bit to the imagination as I get on with my day." Below, our Dalia bikini top with jeans shorts is a perfect pairing.
2. One Piece and Jeans
You may have performed this many times at the end of a beach day when the temperature dips and its time for a chilly run to the car. However, thoughtfully pairing a designer one piece swimsuit with fitted jeans can create a look worthy of a restaurant or casual bar night, as our model sporting the popular Olivia one piece demonstrates below.
3. Bikini and short skirt
This ups the presentability of the 'shorts and bikini top motif' a bit. We show a casual look here, but by pairing with something a bit more luxe, like a dressier skirt to go with our Dalia top, you can feel comfortable at that classy beachside bar you've had your eye on.
4. Maillot and pareo/wrap
Anyone want the ultimate in versatility, beauty and WOW factor? Is that a 'yes, yes and yes'? Y E S!!! Well then, wear it ( in the picture the beautiful Bec sarong ) as a scarf, a pareo, a wrap, a sarong - whatever you like really with a chic and glamorous One Piece, Olivia style made from luxurious quality Italian Ripple Jacquard fabric in a bold White colour.
5. Bikini and Overalls
This style is great for any outdoor activity, even ones nowhere near the water, such as music festivals and days in the park.
6. Large Sheer Sarong and Swimsuit
Of course there's the classic, tied around the waist sarong look. But get one big enough, and it can almost act as a light dress. Aren't we all searching for that elusive holiday piece that we can wear everywhere - from sightseeing, to lunch, to lounging around the pool, to cocktail hour, to dinner and beyond...dancing we mean! Mix it with a beautiful One Piece Maillot in classic black colour  as our style Sharlise.
7. One piece and elegant long black trousers
The perfect look for an evening out near the sea with our One Piece Alice print Wash Flowers.