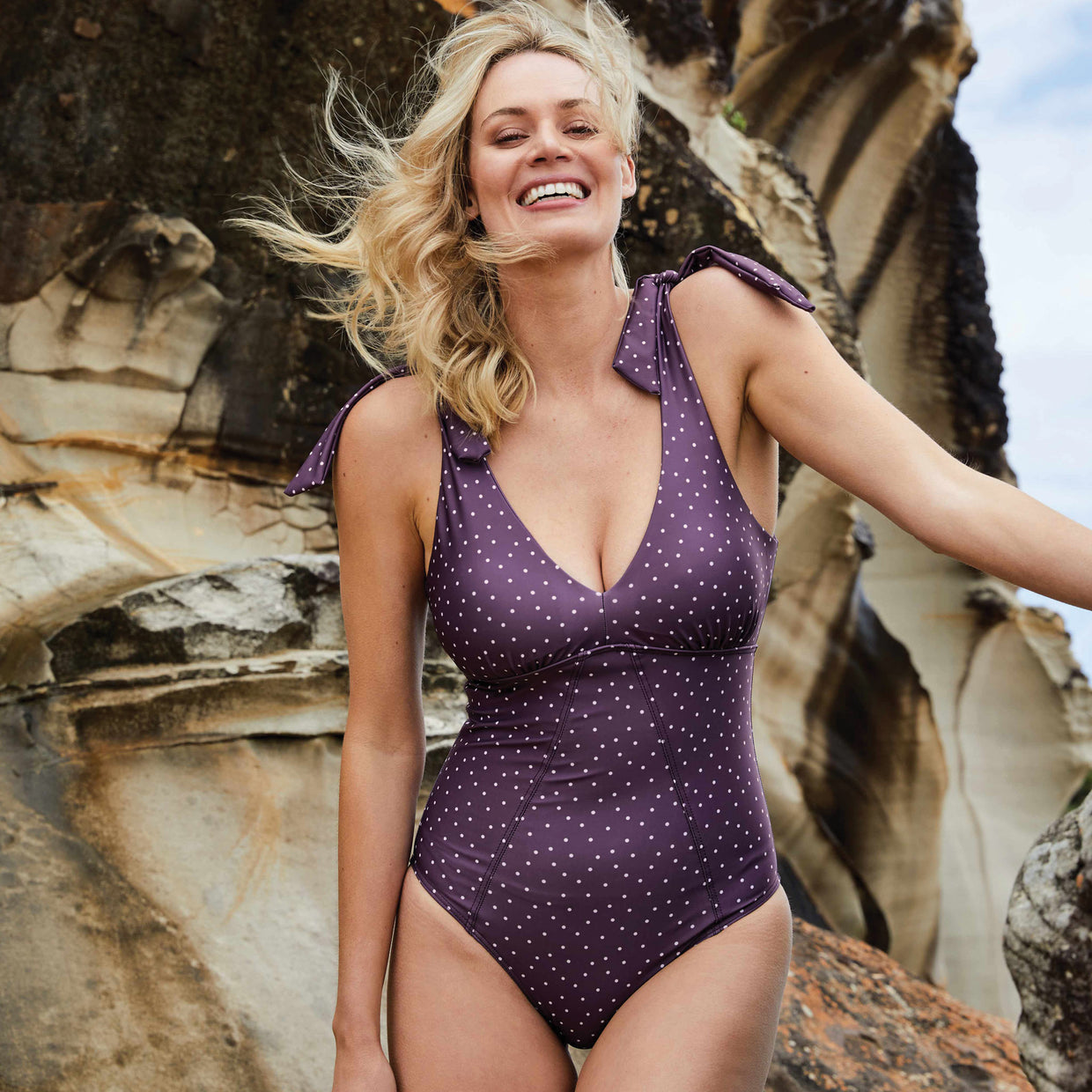 One of the most beautiful things about the female body, in our opinion, is that each one is unique. They are like snowflakes – no two are alike. Tall and slender, short and curvy, different combinations of the above, and everything in-between – all of this means each and every one of us has our own, one of a kind beauty style to share with the world.
Of course, this has implications on the clothes we wear, and identical items of clothing will fit different women in very different ways. This is especially true for swimwear. Some swimwear simply will not complement certain body types, regardless of the garment's size, while other designs will have you feeling more beautiful and elegant than ever before.
One way women vary is in bust size. Often, those of us with smaller breasts can feel insecure when it comes to wearing more revealing and/or form fitting clothing such as swimwear. While our beauty is, of course, not dependent on bust size, every woman should be able to choose the clothing that makes her feel the most beautiful. For that reason, we've come up with a list of swimwear for small busts: styles that will either accentuate the bust or complement the form of those with smaller bust sizes.
Padding/Push Up

This is generally the first style that comes to mind when we think about swimsuits for small busts. Padding can add volume and give the illusion of larger breasts, while push up styles work on increasing lift and creating more cleavage, often using a combination of wiring and padding to achieve this.
Push up and padded styles make for great swimsuits for small busts, as the top gives a natural accentuated look, much like a push up or padded bra. The Janet one piece is an excellent example of this. Its soft, padded cups are removable, allowing you to choose how much you want to accentuate your bust.
Ruffles and Other Ornate Touches

This is an ingenious and often overlooked technique which can help create the illusion of a larger bust. By incorporating ruffles or other such extra material, a textured look is created which our eyes interpret as more volume. In short – your breasts look bigger! Those with eagle eyes will notice the Dalia bikini uses ruffles subtly alongside the padding – combining two great ways to give your bust a bit more volume. The Clara, meanwhile, is an excellent one piece for small busts due to its prominent ruffle detail.

Flowers Design

When curvier women are in search of 'slimming' styles, they tend to avoid flowers design of any kind, as these add the illusion of volume. Well, you've no doubt already guessed where we're going – this feature makes flowers prints great for women wishing to give their chest a bit of an extra boost. This works with both one piece garments and bikinis. One of our best swimsuit for a small bust is the Angelica One Piece with print dots white.
Here's a pro tip – try combining a bikini top for small busts (e.g a polka dots, striped and/or ruffled bikini top) with a solid-colour bottom. This will increase the accentuation effect in the bust area even more.
Swimsuits that are Naturally Better For Smaller Busts

We strongly believe that there are two avenues to consider when buying swimsuits for a smaller bust. Certainly, there are the bikinis and one pieces that accentuate our chests – but there are also certain styles that just look great on women with more svelte figures or smaller breasts.
An excellent example is the Luna one piece. Its wide shoulder straps mean you can both show off the playful strapless look, if you put them off, and have the security of straps when being active or going in the water. An integrated shelf bra that sports removable cups, and reinforcement for shape and support, means you'll be looking your best every time you slip into this beautiful swimsuit. A similar option for those preferring a bikini is our popular Erica bikini.
The fact is, there are many swimsuit styles that are excellent for the woman with a smaller bust – whether your goal is to provide the illusion of a larger chest, or simply to show off a suit that is perfect for your own figure. To find a stylish, high quality swimsuit ideal for you, one that uses Italian material and design cues – but is made right here in Australia, browse our latest collection or take a look at last year's discounted styles!
We are here to help
If you have any questions about our range, please ask away. Contact us by email at info@contessavolpi.com. It's our pleasure to help you to choose the best fit for you!