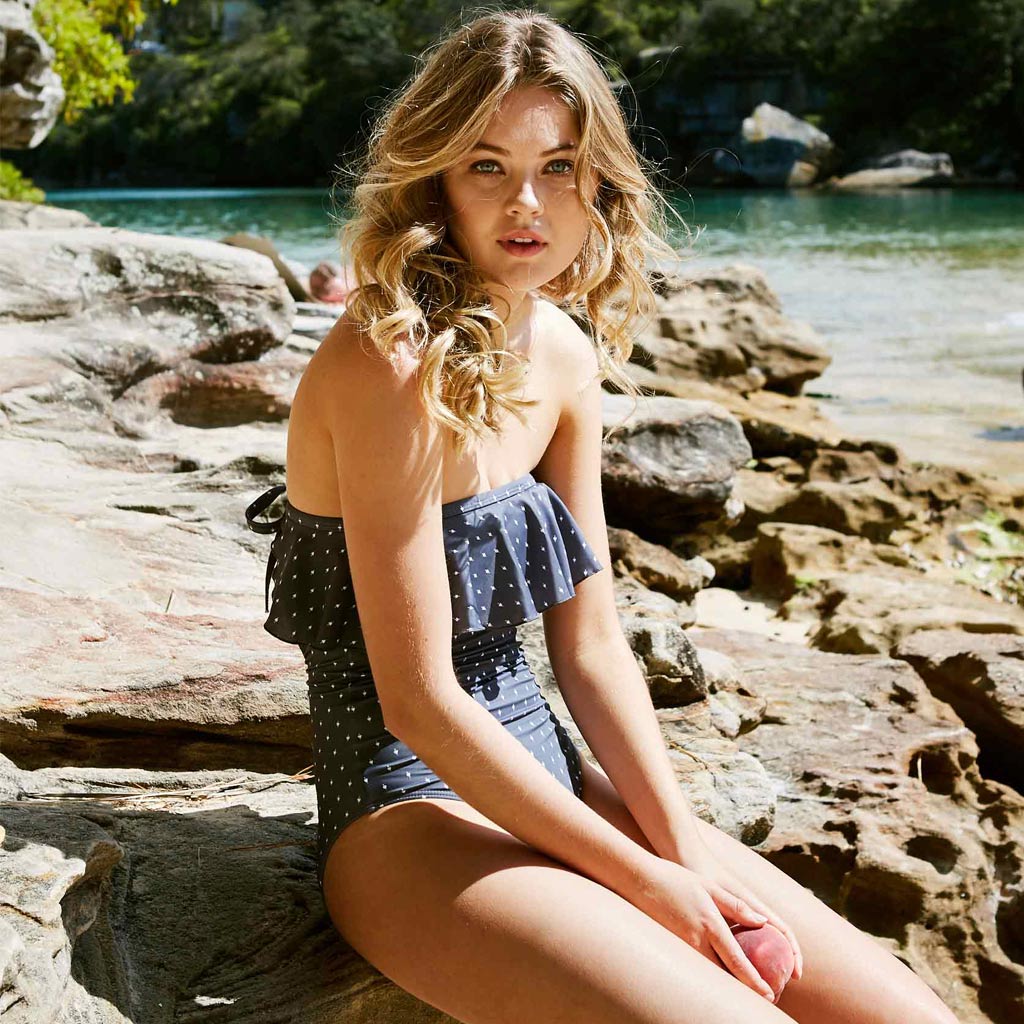 Boutique Australian swimwear label, Contessa Volpi, has launched its latest swimwear collection 'Liberty'. With inspiration drawn from the Seventies, the new collection embraces bohemian chic with just a touch of the surreal.
A gorgeous line-up of predominantly full piece swimsuits, Contessa Volpi's newest collection is a subtle nod to the Seventies while maintaining its classically modern designs. Featuring flattering retro-style cuts, bandeaus, ruffles and florals, the whimsical collection is a glimpse into the past and a celebration of female awakening.
Contessa Volpi's Designer and Founder, Enrica Volpi, said she's always found something alluring about the Seventies. That feeling as though it was a simpler, more innocent time, while being also a powerful era filled with political change and sexual revolution.
"I love that soft bohemian femininity of the Seventies. For me it conjures up an image of a young woman walking through flower fields…. wearing flowing skirts and garlands in her hair. This is the main essence I was trying to capture and is represented in the frills and florals throughout this season's collection.
"But beyond that 'prettiness', the Seventies were also about women finding their voice; their power, and their sexual freedom. So I've also brought an element of that daring and strength into the designs this year. It really is a celebration of the full spectrum of what it is to be female; from softness to strength and power."
The colour palette is a dreamy mix of aubergines, greys, blacks and whites, while luxe fabrics boast distinctive retro prints of florals, stripes and her bespoke 'print spades'. Featuring ultra-flattering cuts that enhance a woman's natural shape, the new collection effortlessly combines elements of high-end style with relaxed beachside comfort. Plus, all Contessa Volpi pieces are ethically made in Sydney, using the highest quality, sustainable Italian Lycra.
The Arianna maillot is a beautiful, aubergine one-piece designed to take you to your happy place. With a flattering cut to sculpt your silhouette, a shelf bra with soft removable cups and flirty, ruffle frills at the front, this is a gorgeously feminine, yet classically stylish swimsuit.
The 'Alice' floral one-piece is the ultimate in boho-chic for the beach. Featuring an exclusive in-house floral print, an ultra-flattering 70s cut and twisted detail over the bust, this is a gorgeously flattering and feminine one-piece that could even be worn as a singlet under a flowing maxi-skirt.
With a retro, flirty vibe the cherry and white striped 'Dalia' bikini boasts effortless beach style. Featuring soft, removable cups and adjustable straps on top, with cheeky ruffle detail on both top and briefs, this is a beautifully bold bikini perfect for long summer days.
The 'Sharlise' one-piece is designed to highlight your body's natural beauty, style and elegance. Featuring an aubergine and white ramage print, this fully lined swimsuit features an asymmetrical cut with gathering at the top and playful opening above the waist.
The 'Olivia' one piece features Contessa Volpi's newest jacquard textured white Lycra to create a 'rippled ocean' effect. The ruffled swimsuit is a form fitting, off the shoulder bathing suit designed to flatter your silhouette and bare your shoulders.